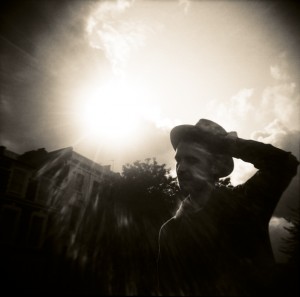 Last week my album 'Only The Missile' received an enthusiastic and insightful review on creative commons music blog Catching The Waves. I have reposted a slightly trimmed review below, if you'd like to read the original in all its full glory please click on the following link:  http://soundthefreetrumpet.typepad.com/
__________________________________________
"Only The Missile is a 10-track album that will appeal to lovers of Leonard Cohen, folk music, introspection, pointed lyrics and open hearts.
The album's transparent mix warms the listener's ears while giving centre stage to the understated vocals although Robin can be feisty as well as fluffy. Take 'The Last Time I Saw David', an unflinching tale about overcoming religious hypocrisy to reach an atheistic/agnostic state of mind, ensures that Robin will not be booking a gig in America's Bible Belt any time soon. It's refreshing to hear a heartfelt song that isn't all: "I wuv 'oo; 'oo wuv me."
Then there's the soothing lullaby of The Finchley Waltz (play it to any baby and watch them drop off), a quintessentially English response to the terrorist bombings in London on 7/7:
"I daydreamed for hours in the traffic jam
As the good guys and the bad guys stopped play"
I could recommend any track, but I'll be unoriginal and suggest the opener These Days, an uptempo mandolin and banjo-laden number with a paradoxically slow but optimistic chorus that will get you singing in the bath and, if you've suffered because of the credit crunch, because you've taken a bath.*
The title track is a toe-tapper with some wailing harmonica – do harmonicas ever do anything else but wail? – and Your Man is another in a seemingly endless supply of huggable love songs. Swan Song and Five (featuring some very welcome ethnic percussion – bongos, tablas, that sort of thing) bring things to a dreamy close – they're the aural equivalent of a favourite jumper.
Goodness, what a lovely album. It never ceases to amaze me at what talent is lurking in the darker corners of the net. Please think about sending him a little cash, or, failing that, bake him a cake. He likes cake. A lot. Finally, if I may venture a little advice to Mr Grey: tuck your shirt in, young man. This is the internet – we have standards."