I have worked ukulele musical magic and mischief with kids and adults of all ages, running workshops at The Glastonbury Festival Kids Field, The Barbican, Highbury Quadrant School in Islington as well as the odd birthday party.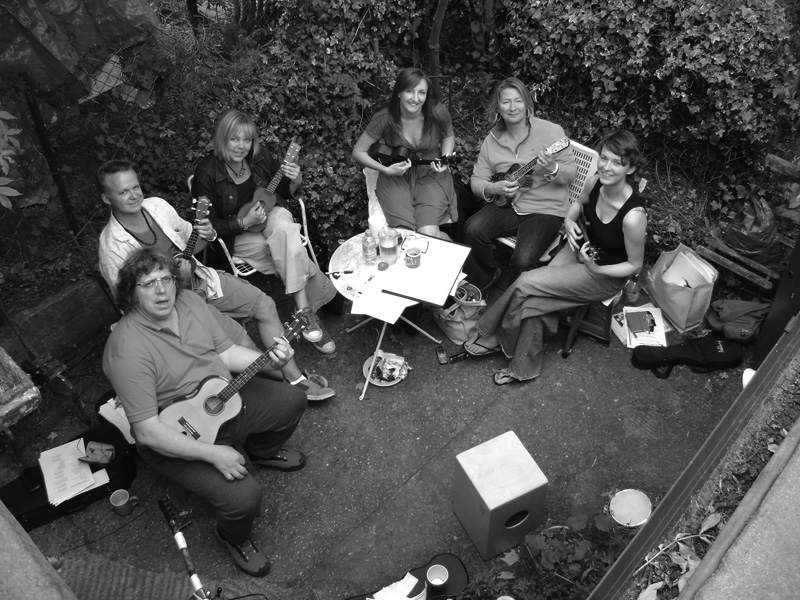 I privately tutor a delightful cross-section of London ukulelists and have even spent time serenading Brent pensioners with war-time classics at The Tricycle Theatre in Kilburn.
Away from the uke I have moonlighted at various times as a kids theatre producer and actor, a film producer, a folk musician, an electric car salesman, a web designer, a double bass player and most recently a gardener.
If you would like to book me to lead a workshop for your group or would like to be kept in the loop about my next workshops drop me a line on O793O 41O28O or via robin @ robingrey.com
*************************************************
Example rhythm workshop might cover
upstrokes and downstrokes
reggae rhythms, back beat groove, folk and jazz strumming
counting and playing in eighths and sixteenths
feeling and understanding groove
song pickups (when to come in!)
*************************************************
Sample plan for a one day (adults or kids!) beginners ukulele workshop
Timings
10.00 – ukulele tuning
10.30 – warmups
11.00 – posture, chords, and songs
12.30 – lunch
13.30 – strumming, more songs and stagecraft
14.30 – performance (recorded or infront of audience or podcast etc)
15.00 – finish
*************************************************
Warmup games
* Don't clap this one back
* Tell us about your partner (depending on size of group)
* Zip-bop
Tunes
* The Lion Sleeps Tonight (C F G7)
* Yellow Submarine (C F G7)
* Waltzing Matilda (C F G7)
* Michael, Row The Boat Ashore (C F G7)
* Stand By Me (C F G7 Am)
Dynamics, Tempo and Feel
* Soft and Full sound
* Slow and Fast speed
* Waltz and Normal feel
Strumming
* Holding Ukulele – 'Ready' and 'Rest' positions
* Down strum using the nail of the first 'index' finger
* Down strum on 1st beat of the bar
* Down strum on 1st and 3rd beats of the bar
* Down strum on every beat of a four beat bar
Composing
* Writing new lyrics to a 12 Bar Blues Jam (C F G7)
or He's Got The Whole World In His Hands (C G7)
Performing and Stagecraft
* Posture
* Receiving applause
* Smiling whilst singing
* Smiling whilst playing
* Smiling whilst playing and singing!
* Entering and leaving a stage
* Finales – playing uke behind head, jumping, etc
*************************************************
Some feedback from various workshops
* "Robin brings a refreshing 'musical' approach approach to learning the ukulele – he builds a strong musical underpinning for beginner to advanced players in an informal yet carefully paced workshop. I really enjoyed the workshop – great fun, and I learned a lot!" – Brian W (grown up!)
* great group participation, very energetic, lots of chance to take part – Abby Deveney (parent)
* handled the large group well, kept order – not too bossy, great fun thanks – Matt and Theo Gillard
* very good – Lexi (age 7)
* i loved it! – Iona (age 9)
* thank you for a brilliant afternoon. it was an amazing experience to go from being a total ukulele novice to playing on stage at the barbican. The workshop was great fun and very inclusive and interactive.- Gaby Jeffs (parent)
*************************************************